Climber Self-Rescue
Level I & II Course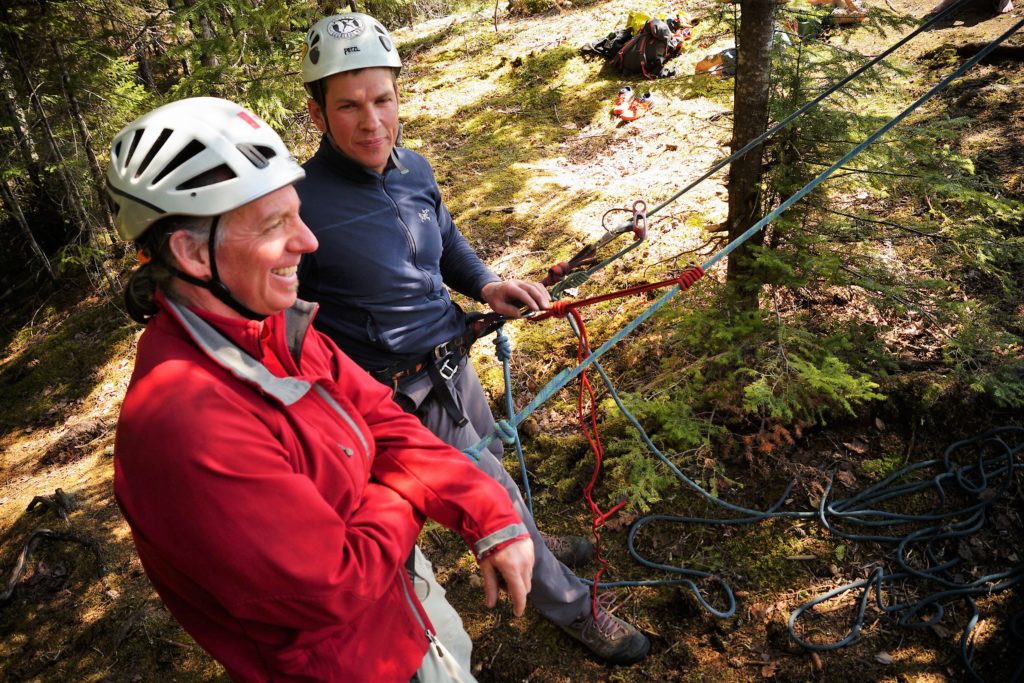 This two part course will make you aware of a number of crucial techniques to either avoid or more easily deal with situations involving climber rescue. The Level I course (day one) is designed to teach fundamental self-rescue techniques to rock climbers. The Level II course (day two) reinforces Level I techniques under more complicated rescue situations with focus on improvisation. See skills covered for each Level below.
When: Usually the last weekend in April.
Where: McQuirks Mountain; both days; camping Saturday night.
Cost: $150/person for both Level I & II (you must be, or become, an Ascent NB member)
$100 for only Saturday (SR level I) if you can't make level 2 on Sunday.
Money collected will be 100% used for buying rope rescue equipment for NB climbing areas
Preference will be given to those that sign up for both Levels because we teach them back to back on the same weekend.
Instructors: Greg Hughes, Shawn Bethune, Chris Hennigar, Joe Kennedy, Steve Adamson, Adam Morgan, and others TBD
Prerequisites: See below.
Sign up: Email Chris Hennigar; first come first serve; 15 participants max; booking starts on January 1st each year.
Self-Rescue Level I Program (Saturday)
Knots: Improved Prusik, Munter Hitch, Munter Mule Overhand (MMO), Improved Prusik MMO (PMMO), Autoblock, Klemheist, Bachmann, EDK
Proper use of EDK and water knot, and where use of these knots should be avoided.
Ascend and descend a fixed line.
Belay escape: transfer leader load to ground anchor & rescue cord, transfer load back to baseline.
Lowering a second on an auto-locking belay device; 3 methods: 1) ratchet, 2) mechanical advantage with backup, 3) PMMO.
Simple 3:1 haul system, mechanical advantage theory.
Self-Rescue Level II Program (Sunday)
Passing a knot
Advanced haul systems: 3:1, 5:1
Tandem & counterbalance rappel
Belay escape and leader rescue
Improvisation (mariner's knot and other useful tricks)
Rescue scenarios and practices
Prerequisites
Participants must be 19 years or older, be (or become) a member of Ascent NB, and meet experience and personal gear requirements outlined in prerequisites below to participate.
Minimum experience required
Basic belay & rappel with an ATC or equivalent.
Knots: figure-8 series (rethreaded, on a bight, bend), overhand series (on a bight, European Death Knot [EDK]), clove hitch, double fisherman
Basic anchor experience (from bolts or tree).
Lead climbing experience not required.
Minimum gear required
Helmet, harness, belay device (preferably ATC Guide or Petzl Reverso plus Petzl Hera carabiner)
Carabiners (6)

Two small locking carabiners, two non-locking carabiners,
One or two large locking carabiners (anything made of the heavy bar stock such as the Petzl William or the BD Rocklock if possible),
One HMS carabiner (such as the Petzl Hera) would be good to have

Cord & slings

Two prusik loops (5 feet of 6mm cord each) or equivalent (e.g., Sterling hollow blocks)
Two single (60 cm) sewn slings; two double (120 cm) sewn slings;
Rescue cord (about 18-20 feet of 6mm cord)
Anchor material (7-8mm cord or sewn sling; ~ 240cm loop (480 cm total) ideal)

Dynamic climbing rope (9-10mm, 60m+; bring it if you have it; one rope per two participants; enquire if you need one).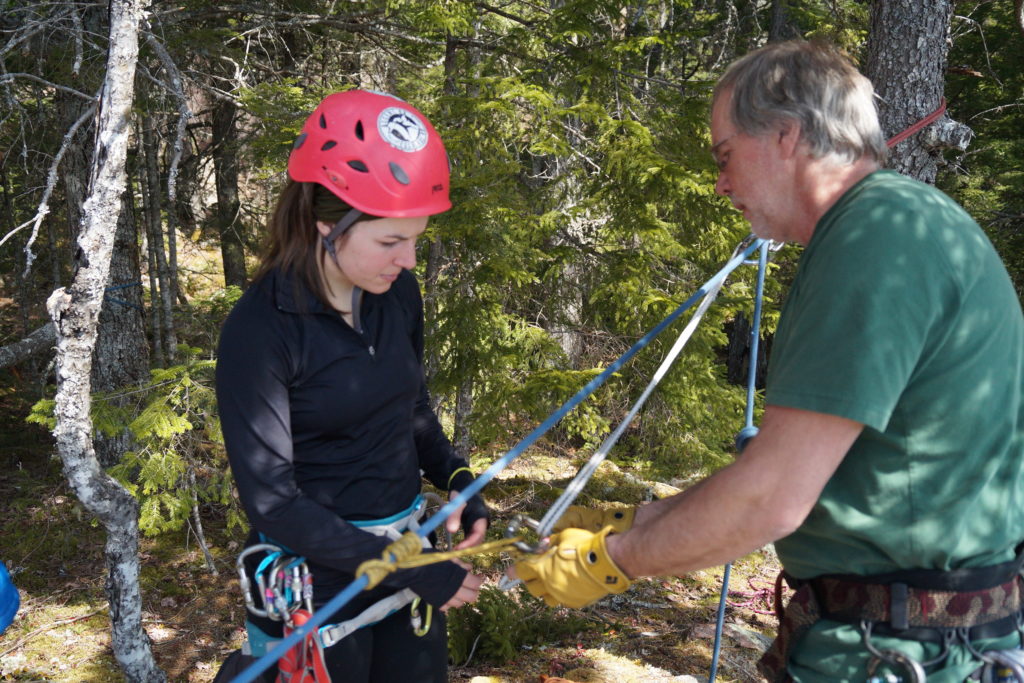 Good References: