Rescue
REMOTE ROPE RESCUE WORKING GROUP
Recent changes in 2014 to the land use agreement with CFB Gagetown for access to Welsford cliffs specified that Ascent NB must provide independent self-rescue capabilities in order to maintain land access. This condition aside, NB climbers, hikers (e.g., Fundy Foot Path), and other recreational backcountry users would benefit from improved technical rope rescue resources in the province. The terrain in southern NB, particularly in remote ice climbing and rock climbing areas, offer many complex patient extraction challenges. There have been several severe climbing accidents in NB; one about every three years during the past ten-fifteen years; and that number may grow with expansion of the sport. In the majority of those severe cases, climbers and fire department volunteers worked together to extract the patient.
While Ascent NB is by no means an emergency response organization, there are many experienced climbers within Ascent NB that could be leveraged toward improving technical rope rescue equipment resources, awareness, and capabilities within existing emergency response agencies such as local fire departments (FD) and ground search and rescue (GSAR). In addition, Ascent NB could play a leading role to improving rescue awareness and competencies of its own members.
In 2015, the Ascent NB Remote Rope Rescue Working Group was formed with the following objectives:
Objectives
Raise awareness and help facilitate the development of better technical rope rescue capabilities in NB for remote steep-angle and vertical environments among relevant rescue agencies such as FD and GSAR.
Improve best practices for remote technical rope rescue for NB wilderness with focus on vertical and steep terrain in all seasons.
Identify best routes for patient extraction from popular cliff areas.
Improve self-rescue capabilities of climbers through annual self-rescue courses.
Fundraise and seek donations for technical rope rescue equipment and trauma first aid kits for climbing areas in NB.
Accomplishments Since 2015
Awareness of our efforts in New Brunswick GSAR, Welsford Fire Dept. (WFD), and CFB Gagetown Fire (CFBG-FD). A few climbers have joined GSAR and a few GSAR have joined Ascent NB.
Ascent NB climbers have taught basic climbing/rescue knots to York-Sunbury GSAR (YSSR) members twice (Sept 2016, Feb 2017) and held one full-day low-angle workshop with YSSR in July 2016 at the University of New Brunswick.
Four full-day meetings in Welsford to work on rope rescue best practices at the cliffs with individuals participating from WFD, CFBG-FD, and GSAR organizations for some of these sessions.

Summer 2015, Upper tier cliff; steep-angle focus
Fall 2016, Lookout wall; patient packing, high angle focus
Fall 2017, Lookout wall; patient packing, steep angle focus

Two climber-focused self-rescue courses (2016; 2017). We are planning another in spring 2018. 100% of the money raised in these courses goes toward purchasing more rescue equipment. Big thanks to the climbers who put this on!
About 80% of priority high-angle rescue equipment for Welsford has been purchased or received through company and climber donations and Ascent fundraising efforts to support this initiative.
All technical rope rescue equipment acquired thus far is now being stored at the Welsford Fire Hall in the fire rescue truck. Big thanks to WFD for their direct involvement and support of this group.
Secured funding for a trauma / hypothermia first aid box at Cochrane Lane to be installed in the spring of 2018. Big thanks to Cara Hazelton at Precision Pilates Fredericton for this donation.
We are currently in the process of identifying how climbers with technical rope rescue skills and/or medical experience may be able to assist local fire departments and ground search and rescue during complex backcountry rescue scenarios.

Where We Need Your Help
Our main goal for 2018 is to outfit popular climbing areas in New Brunswick with first aid trauma kits and hypothermia supplies. For these remote locations, having a first aid station nearby will almost certainly speed patient care and extraction in the event of a climber or hiker accident. Each kit, including wooden box, sign, and first aid supplies, will cost approximately $500. Anyone willing to sponsor one of the locations will be acknowledged (if desired) on the kit sign as the primary contributor.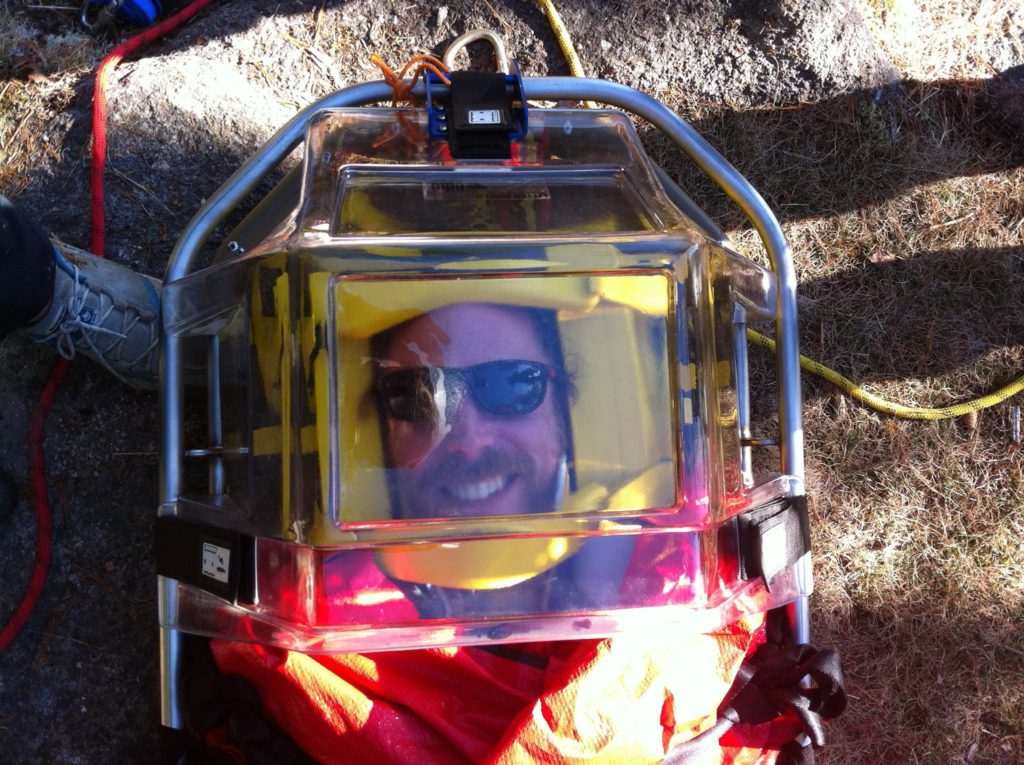 In addition, we are continuing to raise money for a commercial hypothermia wrap ($400), vacuum mattress ($1100), and other odds and ends to round off our compilation of technical rescue gear in Welsford, currently stored at the Welsford fire hall. Once this Welsford gear cache is complete, we will be expanding our group's efforts south to identify the best way climbers can assist near Sussex, Saint John, and St. George to improve remote technical rescue awareness and capabilities among local rescue agencies there; and at the very least, help improve available rescue equipment for southern climbing locations. Donations toward this cause will be acknowledged on our web site and at Ascent NB climbing events and courses.
If you live in New Brunswick and have experience with climbing or technical rope rescue, or are a member of GSAR or FD with an interest in being involved with this group, we would would like to hear from you. We try to draw together a diversity technical rescue and/or medical experience and then try to solve complex patient extraction problems. We get together about two times a year at local climbing areas; usually Cochrane Lane, Welsford. Contact our group coordinator Chris Hennigar to get involved, to learn more, or to donate to the cause.
Gear Contributors - You Make Our Group Possible
VIDEOBAND - Future rescue gear equipment purchases
Cruel Shoes - Future rescue gear equipment purchases
UNB Rock and Ice Club - High Angle Litter (2016) & MPD belay device (2015)

Black Diamond - Biners, Packs, ATCs, Head-Lamps, Helmets (2015)
CFB Gagetown - Climbing Facility Use for Self-Rescue Course
Individuals, Climbing Community
There have been 14 individuals since 2015 that have contributed their own gear or have given us cash to buy new gear. These individual contributions add up quickly and they range from a pulley, static rope, old packs, locking carabiners, harness, belay devices, backboard, c-collar, head blocks, sleeping bags, foam pads, ascender, gear sling and many other small but critical items we need. Cash donations have also been key because there is some gear we need that is very specialized and hard to come by. When we add all this up, these individual contributions make this group one of the most important supporters of our group.
Gear or cash contributors: Cormier Family, Sonia Wilson, Rodney Vienneau, Chris Hennigar, Greg Hughes, Dom Caron, Patrick Keleher, Adam Morgan, Jenna Holz, Michel Martin, Austin Conrad, Chris Norfolk, Jillian Hudgins, Emma Matchett, Rob Linden
Thank you!