UNB Rock and Ice Gear Donation

As you may recall, Ascent New Brunswick is organizing a high-angle rescue team as part of its commitments for the land use agreement with Base Gagetown. To be effective, the team has requirements for gear as well as people, and the cost of the gear was going to be a big challeng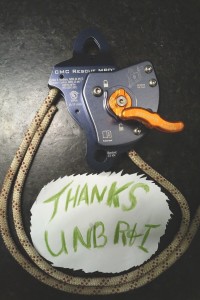 e for Ascent.
Thankfully, Ascent New Brunswick truly has the community behind it. Recently, UNB Rock and Ice reiterated its support of Ascent and our mission when it donated an integral piece of rescue gear to the rescue team initiative.
The CMC Rescue MPD is not your average piece of rescue gear. It has been highly engineered to provide a state of the art mechanism for making rescues more simple and efficient.
So a big thank you goes out to UNB Rock and Ice! We really appreciate your continued support!
---
"The MPD's high-efficiency pulley, with an integral rope-grab mechanism, allows it to be used as a lowering device on the main line and belay line systems and be quickly changed over to a raising system without switching out or replacing hardware."
– CMC Rescue
"This device will greatly simplify rope rescue training and rigging and will serve a principal role in the overall rope rescue system."
– Chris Hennigar, Rescue Team lead coordinator
You can also check out this video to see the device in action.