Crag Spotlight: McQuirk's Mountain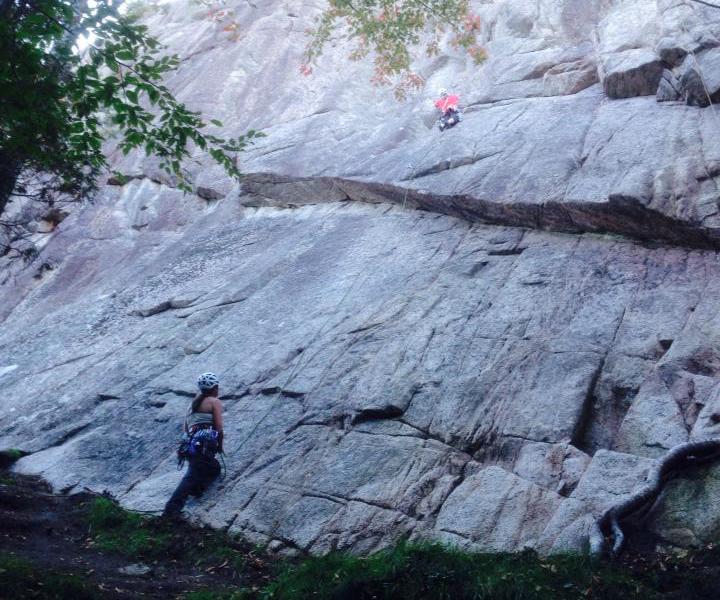 If you haven't heard the buzz yet you're behind the times! McQuirk's Mountain, north of St George, is quickly becoming the most popular crack climbing destination in New Brunswick.  This cliff is truly a gem.  While Cochrane Lane has long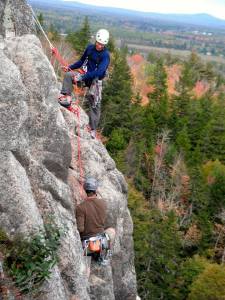 been the focus of traditional climbing in New Brunswick, with a few exceptions there really is a distinct lack of true crack climbing.  There is a jam here and there, but nothing like the concentration you'll find at McQuirk's.
While the cliff is still relatively new you might think it's been seeing traffic for years. This is a testament to the effort put in by the cliff's developers.  Compare the pictures above and below to get an idea of how much lichen and moss *used to be* on the slabs at the bottom of the main face.
While it was actually discovered several years back, it wasn't until Greg Hughes began focusing immense amounts of time and effort that this diamond in the rough transformed into a veritable climbing destination.   He wasn't alone; Greg was joined by M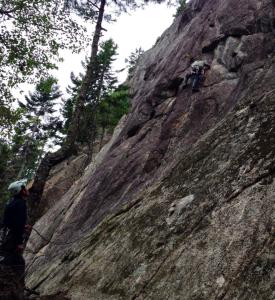 ike Parker, Mike Delaney, Stacey Couturier Tait, Shawn Bethune, and Denise Hamel, among others. Over the past four seasons more than 30 routes have been cleaned and equipped. No doubt this trend will continue in the coming years.
The climbs are all traditionally protected, with just a few bolts added for particularly run out sections.  Excluding bolted anchors, there are really only a handful of bolts on the entire cliff and yet in general the climbs all protect well. The gear placements will only get better with time and more traffic as the crystals in the cracks wear down.
Be sure to thank the developers next time you bump into them.  Such work must be a labour of love, but ultimately it is the community that benefits, and so such effort should be recognized.
McQuirk's Mountain is also one of the climbing areas covered by an land use agreement that Ascent NB is in the steps of finalizing with JD Irving. More to come on this agreement in the near future.
As always, pack out what you pack in. On belay!
---
With increased popularity comes the problems of increased traffic.  Parking is currently limited to a couple options.  The old railway bed is passable for vehicles with sufficient ground clearance, but can only accommodate a couple vehicles and places to turn around are limited.  Parking along the highway shoulder is an easier option and will not block others in, but be sure to park well off the road as it is a provincial highway and drivers may not be expecting cars right along the road on that turn.
A new parking area is currently be surveyed that will accommodate half a dozen vehicles as well as shortening the approach.  More info on this new parking area will be coming soon. Until then please try to park somewhere that you won't be blocking others in.
---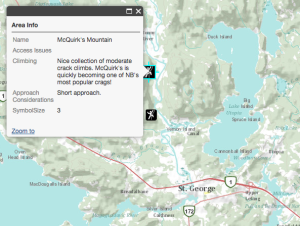 McQuirk's is a short drive north along highway 770 from St George, and an up-to-date route list can be found at climbeasterncanada.com.
Photo credits to Greg Hughes and Steve Adamson.